17 Dec 2019
Speaker Interview: Clive Hawskwood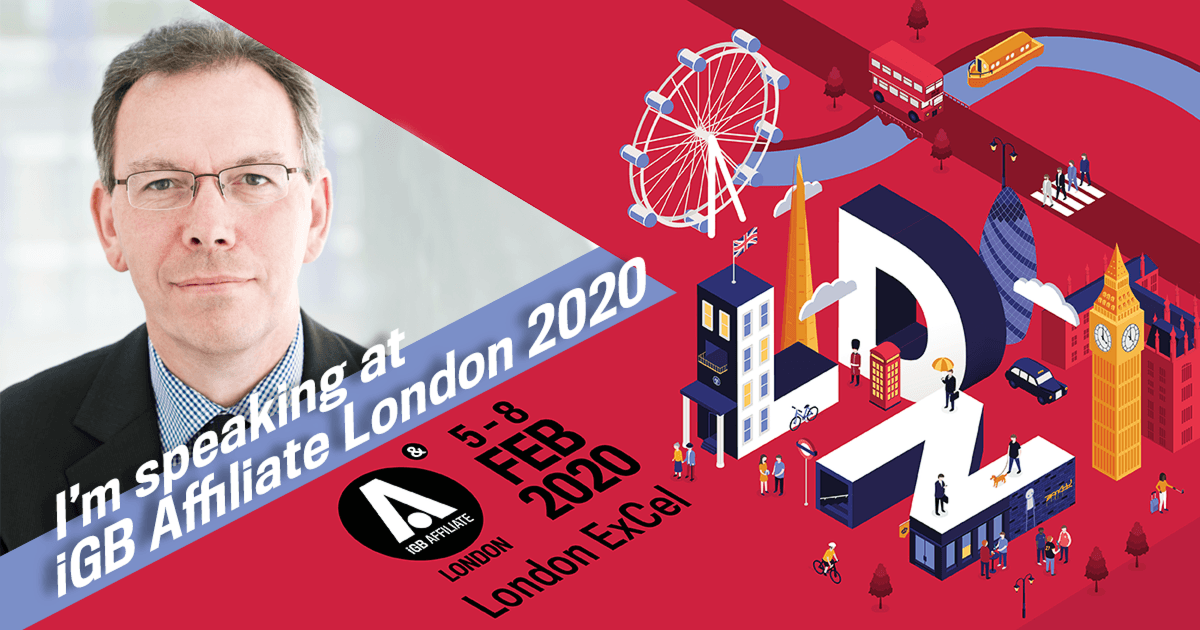 Conference Producer for iGB Affiliate London, Conor Mulheir, sat down with Clive Hawkswood, Chairman of Responsible Affiliates in Gambling for a discussion about the association, its origins and plans for the near future. Clive will be appearing alongside RAiG members for the association's first joint public appearance at 11:00, Thusday 6th February at iGB Affiliate London.
What led to the formation of Responsible Affiliates in Gambling, and how did you become chairman?
For some time there had been discussions within the sector about the need for a trade group and what role it might fulfil. A lot of credit has to go to those who facilitated meetings of a broad range of affiliate stakeholders to flush out the issues, but in the end a smaller group of companies decided that in order to make that jump to the next level they ought to take the initiative. That was the path that led to the establishment of RAiG. When they decided that they would like an independent chairman for RAiG, a couple of the companies approached me. Everything they said about the need for gambling affiliates to get on the front foot chimed with my own views so it was an easy decision. I'd recently left the Remote Gambling Association after about 15 years as the CEO and was enjoying semi-retirement, so I had the time to spare and thought that my experience of the gambling industry and trade association work could help RAiG get off the ground.
How would you describe the importance of such an association in today's market?
I have to say it's a cause for regret that something like RAiG hasn't been in place for a few years already given the huge challenges that face the gambling industry and, unavoidably, the gambling affiliate sector. Whether it is fair or not, the whole gambling supply chain is under intense and critical scrutiny. There are quite simply no good news stories where gambling is concerned, and the marketing of gambling is increasingly in the cross hairs of the regulators, politicians and the media. I have lost count of the number of enquiries, consultations and debates that have taken place and in none of those has the affiliate sector had any real voice. Hopefully, RAiG can help to fill that space while at the same time developing measures that will demonstrate a commitment to addressing the concerns that are constantly being expressed.
Some claim RAiG is focused only on the 'big guys' and isn't as accessible for smaller companies; how would you respond to this?
It is not a surprise to hear that, but there has never been any suggestion within RAiG that it should only be a 'big guys' club. In fact a lot of the early discussion has involved how we might be able to help non-members to stay abreast of their regulatory responsibilities, and to raise awareness of how all affiliates might contribute to improved consumer protection and the wider national safer gambling strategy. However, if anyone has particular reservations about RAiG we would be happy to talk to them.
What do you think will be the key challenges faced by affiliates in 2020 and beyond?
A lot of them are inter-connected and depend which markets are involved, but generally we are in a world of increasing regulation and consolidating markets. Both of these will squeeze the sector, increase operating costs, and put pressure on bottom line profits. In jurisdictions like the UK this is classic maturing market economics, but with an added anti-gambling bias. Tied to this it is easy to see regulators, like the British Gambling Commission, increasingly using licensed operators to impose additional restrictions on their affiliate relationships. All of which sounds like terrible doom and gloom. Thankfully, that does not reflect the whole picture, and it is always worth remembering how vitally important affiliates are to the gambling & advertising industries, and also how resilient the gambling markets are.
You're a veteran of our industry and have held a number of key positions. What has driven you most to shift your focus to the affiliate sector?
Partly it is because over the last few years I have been saying that affiliate marketing is more and more perceived as one of the weakest regulatory links in the wider industry, and that it must be in the sector's interests to organise to defend itself. It was a hard then to say 'no' when I was approached to lend a helping hand.
iGB Affiliate London, previously known as the London Affiliate Conference, is a mainstay in the calendar of gambling affiliates. What is it that keeps you coming back each year?
As an industry one thing we are not short of is conferences, but most people would agree that there are two stand-out events: G2E in Vegas and ICE in London. With iGB Affiliate London and its previous iterations sitting right alongside ICE there is a fantastic synergy which always ensures great content, attendance and engagement.
Great, thanks Clive! I look forward to your panel discussion, 'RAiG Against the Machine: Redefining Affiliate Responsibility for the 2020s' at iGB Affiliate London in February.