19 Jan 2023
Betsson Group Affiliates as iGaming Club London '23 sponsor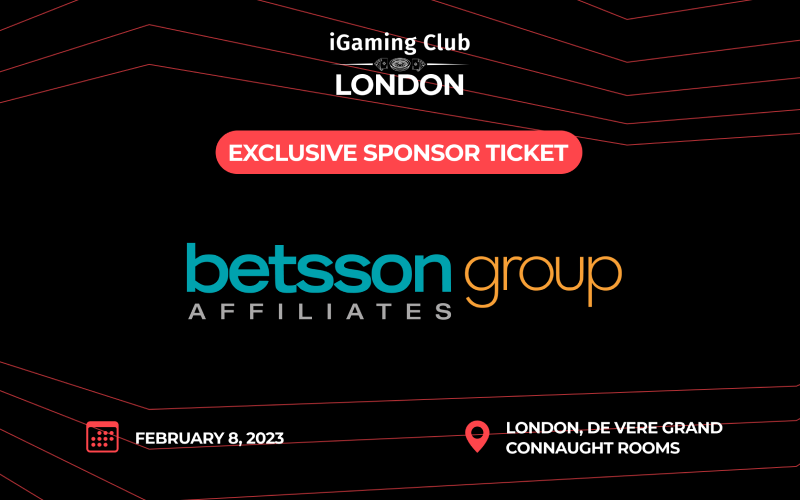 AffPapa is delighted to welcome Betsson Group Affiliates as one of the official sponsors of iGaming Club London.
Betsson Group Affiliates, home to industry-leading brands such as Betsson, Betsafe, NordicBet, and more, offers a diverse range of products in countries worldwide. The company is recognized for combining the finest practices of the dynamic and successful online gaming sector with the foundation of a traditional business approach.
The iGaming operator is a "long-time partner" of AffPapa, having developed several connections with affiliates through the AP directory.
The company has now secured the exclusive sponsorship ticket, which in addition to sponsoring also grants the operator access to the AffPapa directory, the companies' partnership is extended for yet another solid year.
Shakyra Jonsson, Senior Affiliate Operations Manager at Betsson Group Affiliates, stated:
"Betsson Group Affiliates are excited to extend once again their partnership with  AffPapa, one of the most exciting new directories within our industry.
Our experience as of today has been top and the team at AffPapa have been amazing, always supportive.
We look forward to another great year ahead in collaboration with AffPapa."
Triston Smook, Head of Affiliates at BGA, added:
"iGaming Club was a resounding success in Amsterdam, and we are excited to see what this organization can deliver in London this year! Networking between top professionals is always at the highest level and is an experience not to be missed."
iGaming Club London is part of a global series of events powered by AffPapa, featuring the biggest figures in iGaming, with the sole objective of building business relationships among participants of the sector.
Exclusive dinner and drinks, with iGaming speed dating designed to help attendees get connected with potential partners quickly. Affiliates, operators, and B2B companies can use this chance to showcase products/services, build relationships and create business opportunities.
Yeva Avagyan, Head of Commercials at AffPapa, commented:
"Betsson Group Affiliates has been a long-time AffPapa partner, and we couldn't be happier to welcome the team to iGaming Club London as one of the event's official sponsors! Looking forward to seeing this partnership with the BGA team escalate to the next level."
The event will take place on February 8th in London, UK. Visit the official iGaming.Club London website to purchase tickets and/or learn about current sponsorship options.