100) ? true : false" x-on:click="window.scrollTo(0, 0)">
News
'The future now' creative heralds opening of iGB Affiliate registration
31 Oct 2023
'The future now' creative heralds opening of iGB Affiliate registration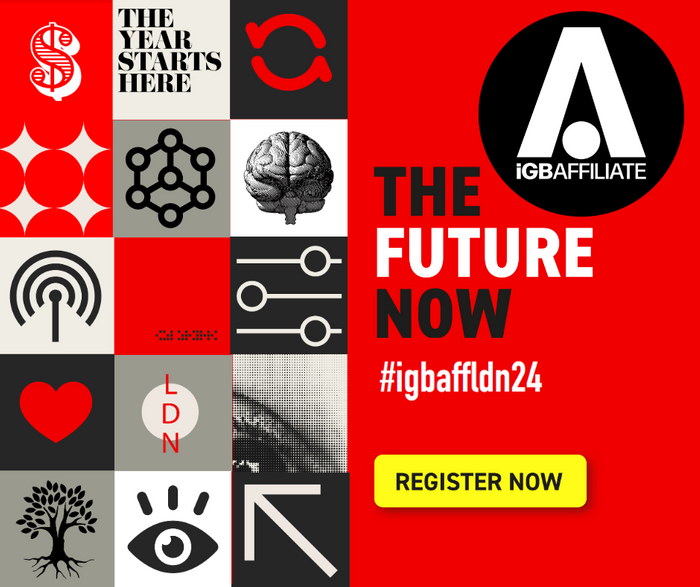 Clarion Gaming, organisers of iGB Affiliate has adopted 'The Future Now' as its creative proposition to help drive participation in the industry-leading show which takes place across 6 – 9 February at ExCeL London. Registration for what will be the last edition of iGB Affiliate to be held in London prior to its relocation to Barcelona in 2025
Clarion Gaming, organisers of iGB Affiliate has adopted 'The Future Now' as its creative proposition to help drive participation in the industry-leading show which takes place across 6 – 9 February at ExCeL London. Registration for what will be the last edition of iGB Affiliate to be held in London prior to its relocation to Barcelona in 2025 has opened at https://london-igbaffiliate-2024.reg.buzz
Explaining the background to the campaign creative iGB Portfolio Director Naomi Barton said: "The Future Now was inspired by our customers and broader stakeholder community who during a comprehensive engagement programme told us that they viewed iGBA as the place where the industry's brightest and best come together to define the future of the industry.
"For so many of our stakeholders the future starts at iGB Affiliate which represents their most important business opportunity of the year. The event messaging captures the pioneering spirit of the industry and reflects iGBA 's status as the home of the iGaming Affiliate community. Our commitment is to connect the right people and the best opportunities, providing the fuel that keeps the industry moving forward."
Looking ahead to what industry professionals will experience at iGBA 2024 Naomi Barton added: "We will be building on the iGB INTRODUCING facilitated onsite networking 'hub' to make connections that count and create excitement about the future that they will unlock. As the ONLY exhibition that's focused purely on igaming affiliation every connection made at show is going to lead somewhere. In terms of content the Pulse Stage will focus on future markets, future tech and future opportunities.
"As this is our last year in London, there will be an iGB Affiliate 'Farewell to London' party like no other – and we will be celebrating alongside sister show ICE to ensure that we deliver something exceptional.
"For anyone involved in igaming the 2024 event is not to be missed: the new-to-show tech vendors we will be showcasing will help our audience to stay ahead of their competitors, and provide inspiration and new products being demonstrated by the circa 200 exhibitors expected at our farewell to the London edition of iGBA."
For more information and to register to attend iGB Affiliate 2024, 6-9 February, ExCeL London:: https://london-igbaffiliate-2024.reg.buzz