100) ? true : false" x-on:click="window.scrollTo(0, 0)">
Exhibitor Press Releases
Leaderboard Mania Returns Monday - $1000 Guaranteed, Plus Free Spins for Runners Up
14 Jan 2023
Leaderboard Mania Returns Monday - $1000 Guaranteed, Plus Free Spins for Runners Up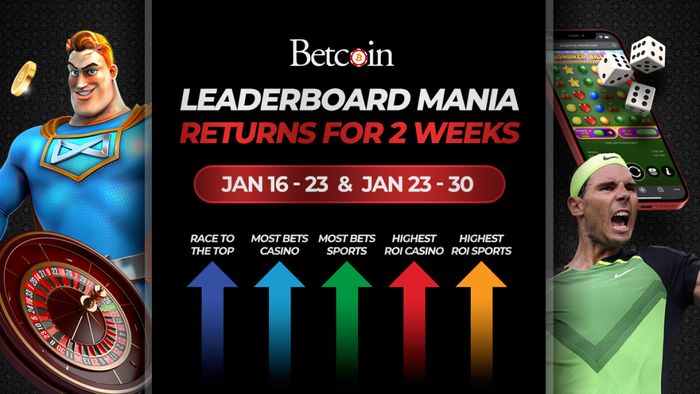 Due to the ongoing excitement over our recent Leaderboard Mania promotion, we will be bringing it back for 2 more weeks. All five of our leaderboards will be tracking play at the Betcoin.ag casino and sportsbook from Jan 16-23 and Jan 23-30. Each week will have a guaranteed prize pool of $500, plus 50 free spins in our casino.
We will be tracking the top players in the following leaderboards:
1. Race to the Top (most money wagered in the casino and sportsbook)
2. Most Bets Casino
3. Most bets Sports
4. Highest ROI Casino
5. Highest ROI Sports
The top 3 players in each leaderboard will receive unrestricted Bitcoin prizes
1st: $50 2nd: $30 3rd: $20
Additionally, for each leaderboard, we will be using a random number generator to select 2 players from the 4th-10th positions to receive 5 free spins each, for a total of 50 free spins awarded!
Bonus Prizes for Winning Multiple Leaderboards
1. Any 2 Leaderboards - Additional $50
2. Any 3 Leaderboards - Additional $100
3. Any 4 Leaderboards - Additional $500
4. All 5 Leaderboards - Additional $5,000!
Leaderboards must be won in the same week to be eligible for the bonus prizes. Bonus winners will only receive the highest bonus payout. All management decisions are final.