07 Mar 2022
A Day in the Life of an Affiliate: Will Armitage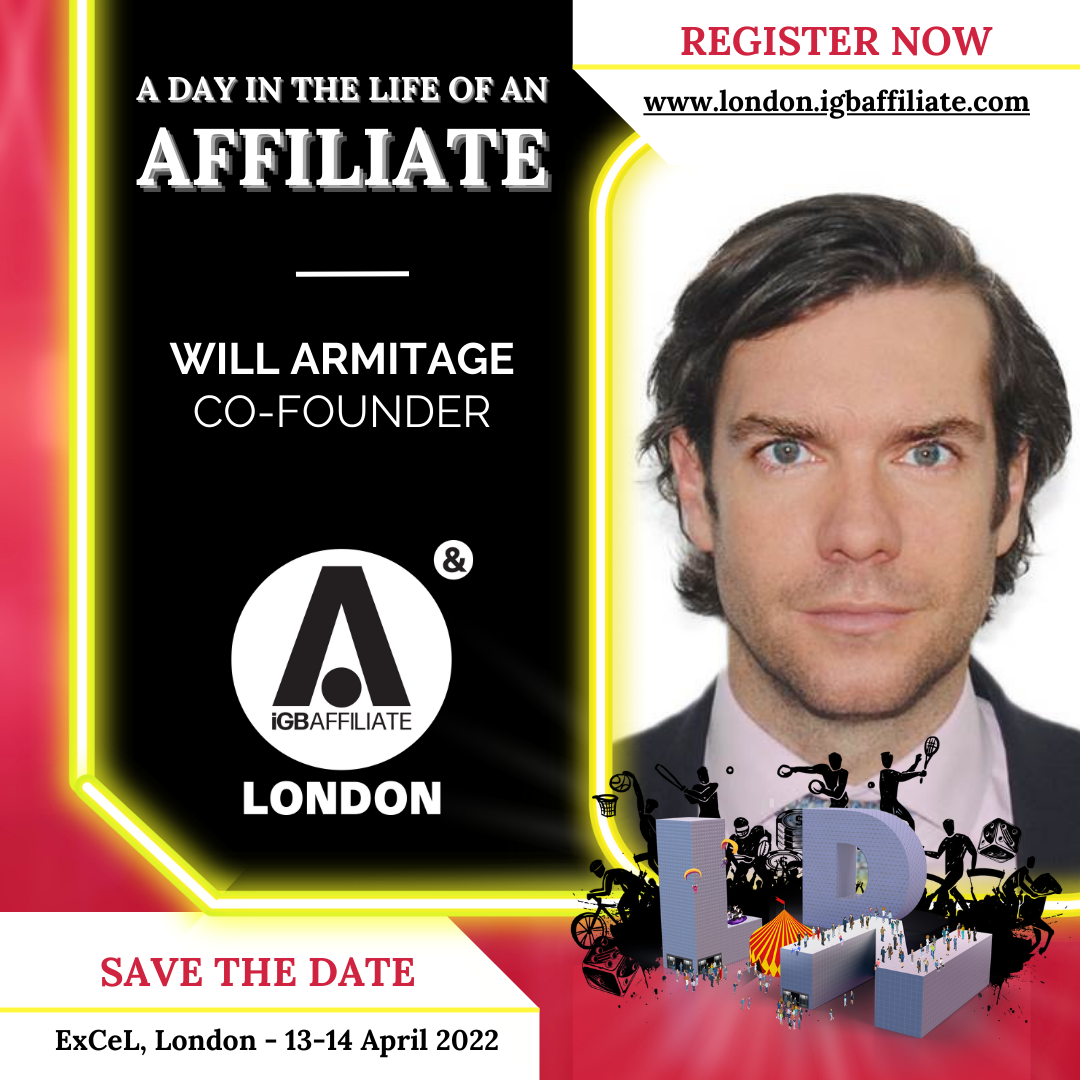 A Day in the Life of an Affiliate
We at iGB Affiliate London want to put affiliates at the centre of the story. A Day in the Life of an Affiliate shows you what igaming affiliates get up to during their working day. Whether you're looking to start your journey in igaming, learn some tips and tricks from your peers, or see the faces behind affiliate brands, this dedicated blog gives you the best insight into what it means to be part of the igaming affiliate community. These posts are unsponsored and are the own words of each affiliate.
Who is Will Armitage?
After studying Business and French at Edinburgh University, I spent 12 years from 2000 with IG (FTSE-250 Financial Trading). I spent 6 years on the dealing desk, followed by running the International Business Development team before becoming Head of Europe. I worked on the financial trading business but spent time in the 90s working in IG's sports spread betting business. Since then, I have been an active investor in UK and international start-ups and VC funds. I co-founded BestOdds in January 2021. Horse racing and Arsenal are my passions.
Morning routine
My 6.40am alarm triggers an immediate quick glance at the BestOdds' Slack channel followed by Bloomberg news and 365 Scores before rousing the kids. After squeezing in a few pages of Harry Potter reading at breakfast, the school run and a 30-minute Peloton ride, (where I try not to send emails, but often do), I make myself a big mug of English Breakfast tea and settle down to the laptop to digest everything that has landed in the inbox overnight or has been left from the previous day. The BestOdds' team is split across three continents with my co-founder is based on the West Coast, so the nine-hour time difference to my CET means that I often wake up to a barrage of developments from our Vancouver office.
Investing in startups and developing business growth
Prior to starting BestOdds exactly a year ago, I had been spending a decade angel investing as well as backing several VC funds. I have over 50 live such investments, so I spend on average 60 to 90 minutes per day dealing with their administration first off. Mid-morning onwards, I dedicate myself to BestOdds and focus on that for the rest of my working day. As I've learnt since I started investing in start-ups and now can at test first-hand, the life of a founder never follows a 'normal' 9 to 5 pattern! As BestOdds is still in its infancy, there is often a wide variety of calls to take and decisions to make; whether they be around operators, regulators, content plans, accountants, partners, writers and much else besides. One of the most rewarding aspects at this stage of our growth is meeting other interesting businesses with which we can either partner or become their customer. For me a good day is when you agree to a particular collaboration knowing that it will give BestOdds.com a better chance of fulfilling our ambition to become a leading global affiliate, as well as helping the other business's growth.
Managing opportunities sensibly
There is certainly a long way to go for BestOdds.com. However, unlike some other affiliates whose ambition is to flip themselves quickly to the highest bidder, we want to build out and scale our independent brand firstly in the US and Canada, before expanding internationally over in the years ahead. We don't want to rush into other markets prematurely and overextend when there is such a huge opportunity to create a notable presence stateside over the course of this decade. I've witnessed a lot of businesses expand internationally too quickly for their own good and suffer the consequences. It's all about managing the opportunities sensibly, especially if you're building a business for the long term. The landscape for affiliates has a truly fascinating time ahead as the North American markets further expand and evolve. There will be a plethora of talented new competitors out there to challenge the listed behemoths in this space and it will be intriguing to witness the consolidation that surely lies ahead.