25 Feb 2022
A Day in the Life of an Affiliate: Toni Westerholm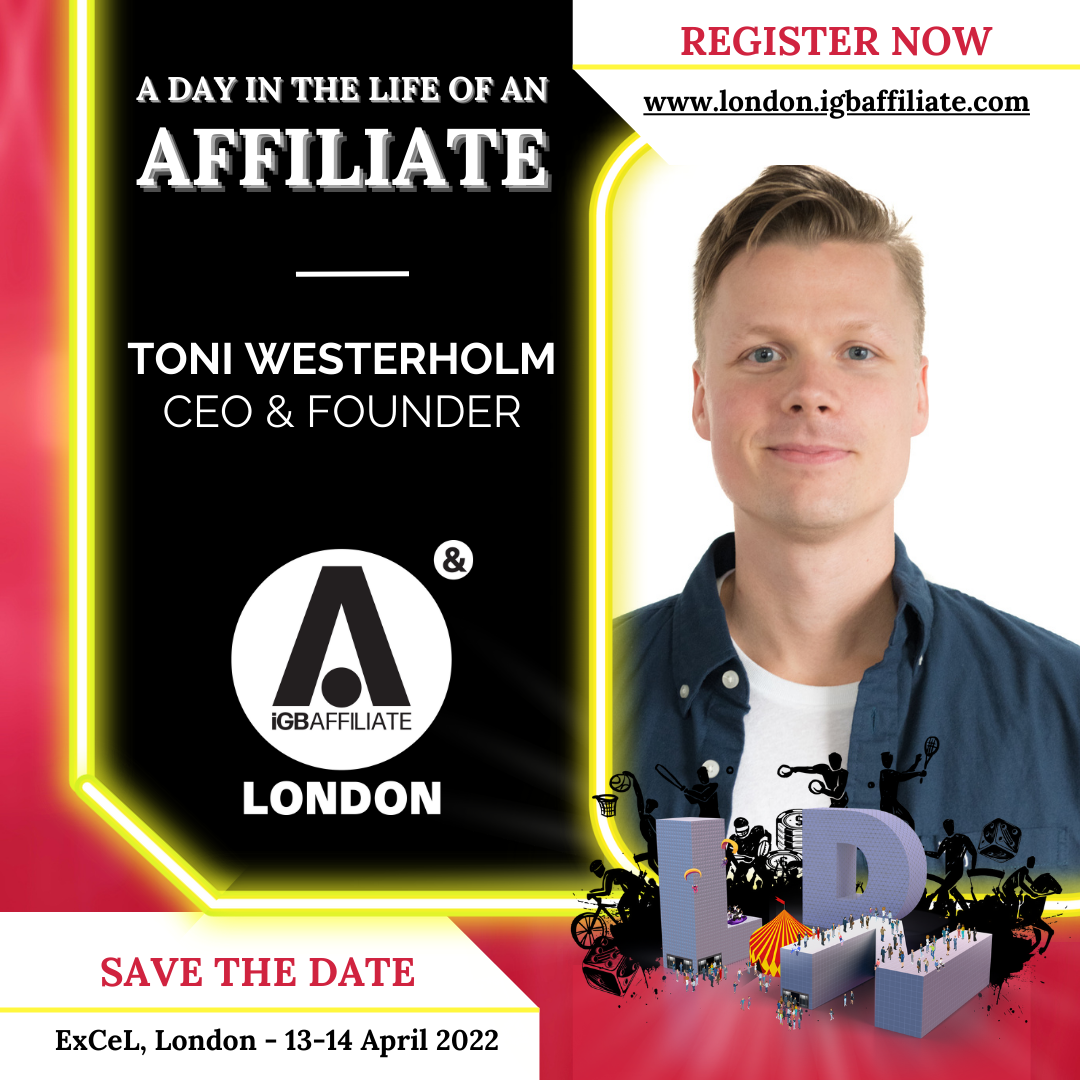 A Day in the Life of an Affiliate
We at iGB Affiliate London want to put affiliates at the centre of the story. A Day in the Life of an Affiliate shows you what igaming affiliates get up to during their working day. Whether you're looking to start your journey in igaming, learn some tips and tricks from your peers, or see the faces behind affiliate brands, this dedicated blog gives you the best insight into what it means to be part of the igaming affiliate community. These posts are unsponsored and are the own words of each affiliate.
How do you start your day?
With a hot cup of joe! Just kidding, that is of course given in our fast-paced work life. When I open my computer, I actually try not to look at results from last day (rankings or conversion) but rather look at if there has been questions (dependencies) to me or briefs that I need to push forward in order for our team to execute. In our 7 people small team it's key to be agile and not stand in anybody's way either. You make quick but informed, insightful decisions and move things along.
What do you think you do that's a bit different from your competition?
From the start we have tried to be lean, innovative and mobile always company. We do compare better when benchmarked against "legacy affiliate sites". However, a deeper insight of our core values (lean, innovative, mobile always) is that everything is built keeping them in mind too. Our websites, the content and ideas flow smoothly from product to product and this is our way to scale too. Innovative solutions developed to one website are launched smoothly on others, quickly, if shown promise.
Signing new partners in, creating new insightful content, developing technical solutions and more
I would say it's a balanced combination of new things happening for us. Signing new partners in, creating new insightful content for our readers, developing technical solutions that better our websites. If a day only consist of putting my sales pants on and booking new operators in and selling ad space then I feel like things that actually matter (creating relevant content and information for our website visitors) don't go forward.
Measuring success through monetary value driven to casino partners
We understand the reality of the online casino business as we have worked on the operator side as well ourselves. We measure success by monetary value driven to the casino partner. As an affiliate we feel a big responsibility to contribute to the ecosystem. We also feel a big responsibility towards the customers, as an entry point to online casinos (building knowledge and trust).
What opportunities do you see coming up for affiliates in igaming across 2022/23?
We as others are affected by the ever changing legislation landscape in the iGaming space. However we can offer solution in this landscape, with innovative portals such as Pika-kasinot.com, a leading pay n play fast casino portal in Finland. People still actually look for good casinos to play in, in Finland as everywhere in Europe. We are also very active in the U.S market. Licensed in more than 5 states to operate, we see massive growth and more and more opportunity in this regulated online casino market. We do feel like we will focus on casino, keeping to our strengths here as well