04 Feb 2022
A Day in the Life of an Affiliate: Sue Dawson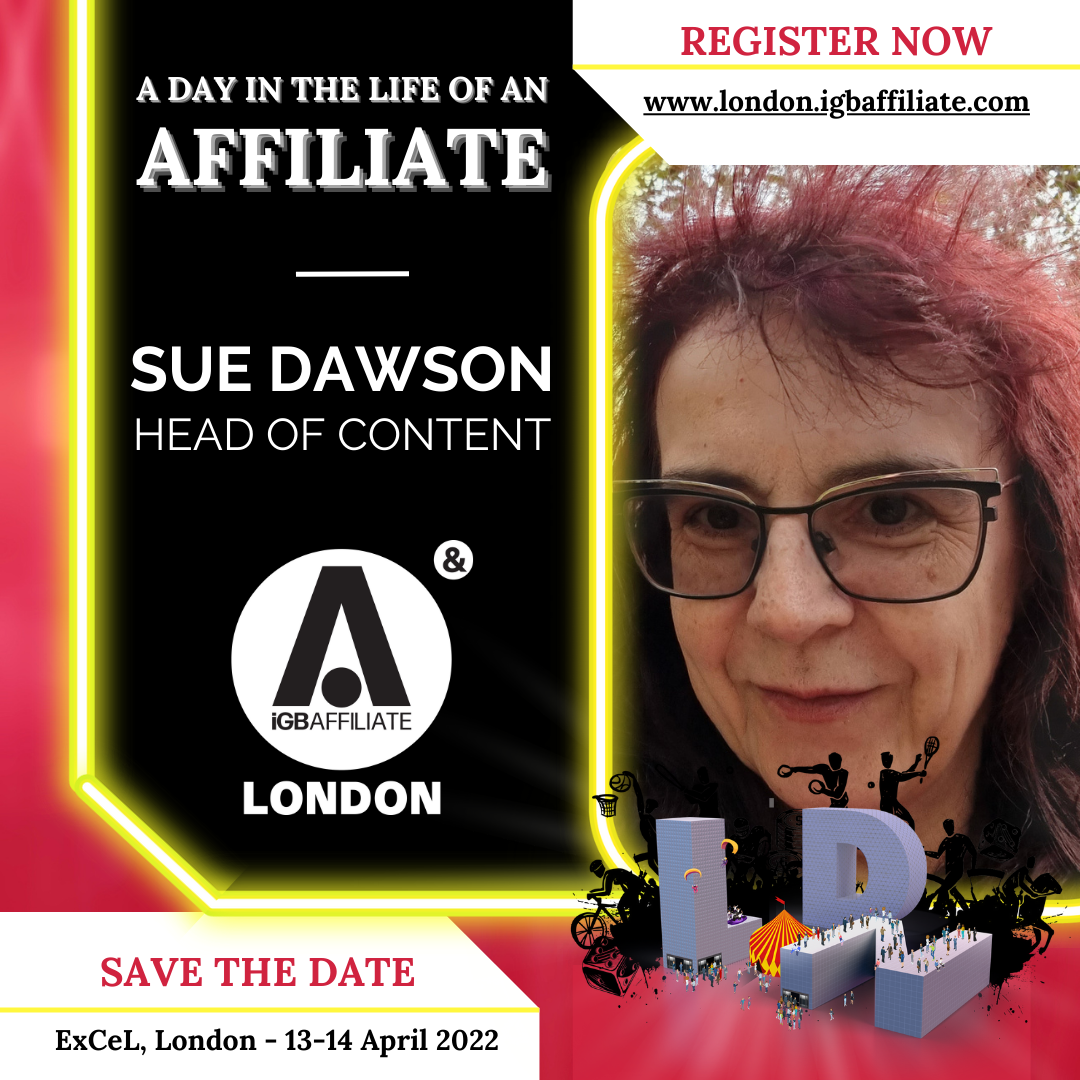 A Day in the Life of an Affiliate
We at iGB Affiliate London want to put affiliates at the centre of the story. A Day in the Life of an Affiliate shows you what igaming affiliates get up to during their working day. Whether you're looking to start your journey in igaming, learn some tips and tricks from your peers, or see the faces behind affiliate brands, this dedicated blog gives you the best insight into what it means to be part of the igaming affiliate community. These posts are unsponsored and are the own words of each affiliate.
Who is Sue Dawson?
I'm Head of Content for FTD Digital and am also involved with SEO and strategic planning. We're a small team and fully remote – remote working went so well during the lockdown that we decided not to renew on our Vauxhall office.
Starting Off with Website Ranks
Instead of the stressful commute I used to have from South West London, I'm at my desk in the study by 9 am after an all-important cup of coffee and start by checking our Google rankings. I check the most commercially important pages most days and others less frequently unless they've had a major update or we're running a test. Then I move on to emails, messages, and Asana (our project management tool). I also catch up on industry news and trawl partner (and competitor) websites for content opportunities for Best New Bingo Sites, such as new bingo games and promotions.
The Work
We have a team meeting on Zoom at 10am, with a different focus each day of the week – content, SEO, onboarding and partner relationships, performance reports, tech etc. After that I'll catch up on anything urgent that needs to be done like changing offers and repositioning brands based on performance.
Unwind Outside When You Work from Home
At lunchtime, I go for a walk in a local park, with my husband if he's also working from home that day and my son if it's the school holidays. That really makes me feel refreshed and ready for the rest of the day.
Different From Most Other Affiliates
On some days we have more Zoom meetings in the afternoon. These may be with people from outside the organisation (e.g. affiliate managers) or team meetings to discuss specific issues or for planning and development. The rest of the time I write content for Best New Bingo Sites. As well as producing fresh news posts and articles and publishing reviews of newly onboarded brands that I regularly revisit and refresh old content –and yes, we do it all in-house which makes us different from most other affiliates.
Measuring Success
A good day is one where I feel progress has been made, either with producing content or with progressing other projects. Or – of course – when our rankings have gone up. The true measure of our success as an affiliate, though, is revenue and FTDs (and our name makes that impossible to lose sight of!)
Looking Ahead
For 2022 and 2023, I can't wait to get back to conferences and other industry events and see everyone face to face. Who knows what opportunities that will bring? It's going to be really exciting finding out.