28 Jan 2022
A Day in the Life of an Affiliate: Nina Sparv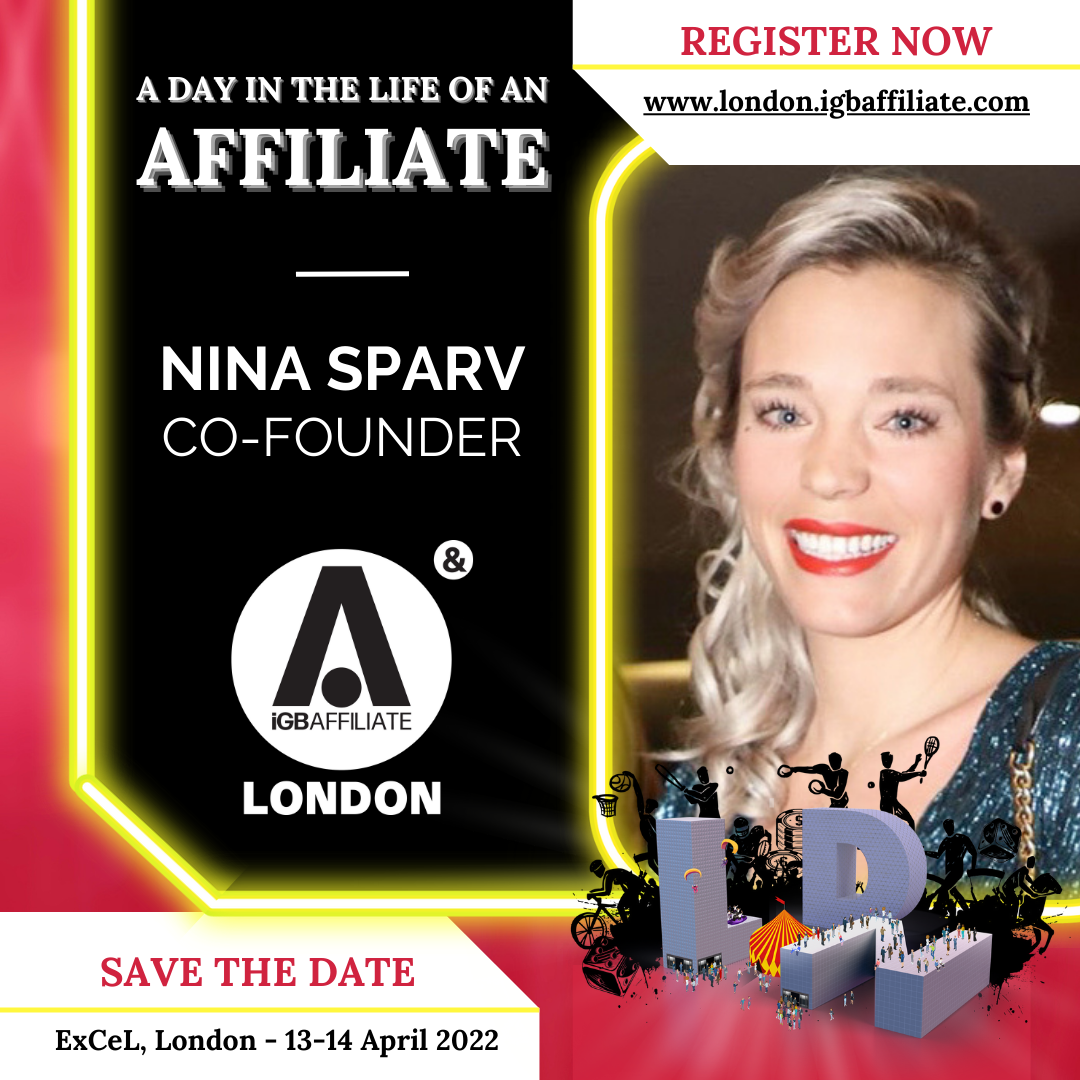 A Day in the Life of an Affiliate
We at iGB Affiliate London want to put affiliates at the centre of the story. A Day in the Life of an Affiliate shows you what igaming affiliates get up to during their working day. Whether you're looking to start your journey in igaming, learn some tips and tricks from your peers, or see the faces behind affiliate brands, this dedicated blog gives you the best insight into what it means to be part of the igaming affiliate community. These posts are unsponsored and are the own words of each affiliate.
Who is Nina Sparv?
Nina Sparv, 33 years old (young, actually hehe), born and raised in Finland. I started my Igaming career back in 2013 when I moved to Cyprus. In Cyprus I was working as a copywriter, and after a promotion as a business manager for several white label casino brands. During these years I learned a lot and at some point I felt like it was time to move on. In 2016 I moved from Cyprus to Andorra to set up my own affiliate marketing company Epicorns since the affiliation part of the Igaming business has always fascinated me.
Day as an affiliate - in Andorra
Andorra is famous for its beautiful nature and great ski-resorts. During winter season, I spend most of the mornings in the slopes. The biggest advantage of being an affiliate, at least in my own opinion, is the freedom. The first hours in the morning I usually spend in the office, which we have setup at home in a separate room. To be up to date to the daily tasks and updates, where after I usually head to the slopes if the weather is good. In the afternoon, it's time to get back to business again, so during especially wintertime my day is more or less balanced as work – ski – work. Not too bad of a setup, especially if you love skiing as me.
What makes Epicorns unique
Our company has grown during the last years from only being just a few key people, to a company of over 42 people working full-time. I think what makes our company unique is that everybody has a very good work- life balance, since we give a lot of freedom but as well responsibilities, which gives everyone the chance to learn and grow professionally within the same company. We always focus on quality instead of quantity, for us is more important that our player value and lifetime value is higher, than having more FTDs. We might not be the biggest affiliates in the market, but we for sure offer great player values, which of course makes both of us as affiliates happy, but as well the operators.
Success as an affiliate
Success can be considered as achieved when the employees are happy, we are happy, and the operators are happy. When talking about success in the affiliate business, this can obviously be defined in many ways. For me personally, I consider one of our Finnish SEO websites: rahapelit-netissa.com to be one of our biggest successes, due to that it is ranking nicely for many high-quality keywords, in an extremely competitive market & language. In addition to rahapelit-netissa.com we also have many other websites ranking high in other markets like Spain.
Igaming affiliate opportunities for 2022 / 2023
Igaming during the last years has been more and more competitive, and not only that, but there's also plenty of new regulations to keep up to. I think for this and the upcoming year there´s a lot of new opportunities, the LATAM market for example is starting to grow, as well as US. Both have huge potential and I´m sure that I´m not the only affiliate taking this opportunity into account.