21 Feb 2022
A Day in the Life of an Affiliate: Nemanja Lazarevic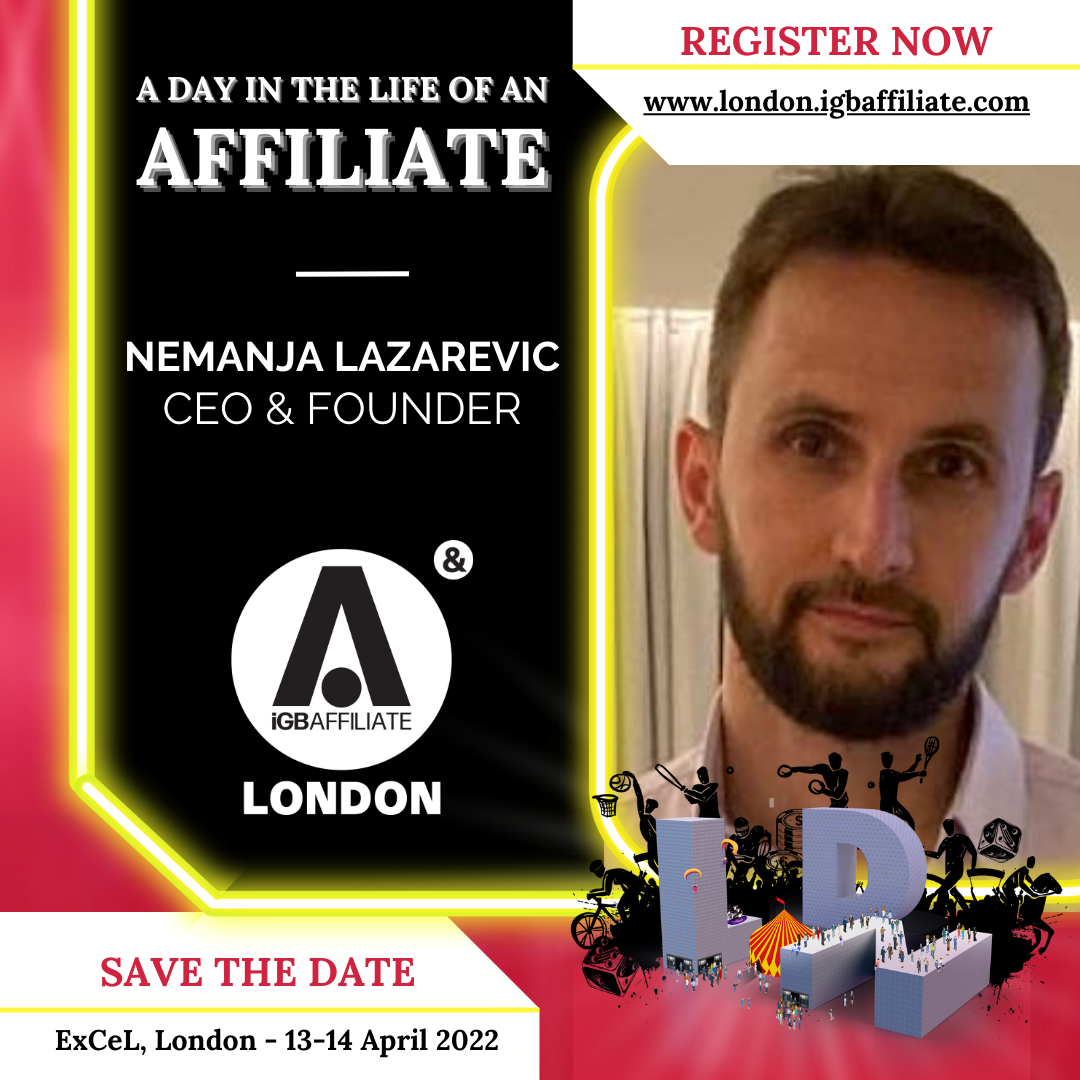 A Day in the Life of an Affiliate
We at iGB Affiliate London want to put affiliates at the centre of the story. A Day in the Life of an Affiliate shows you what igaming affiliates get up to during their working day. Whether you're looking to start your journey in igaming, learn some tips and tricks from your peers, or see the faces behind affiliate brands, this dedicated blog gives you the best insight into what it means to be part of the igaming affiliate community. These posts are unsponsored and are the own words of each affiliate.
Who is Nemanja Lazarevic?
I've been in the igaming industry since 2008 and my company Teamwork produces content for igaming affiliates and operators, while we also run our own affiliate sites. We started as a content writing company in 2011, focused exclusively on igaming and then started building our own affiliate sites in 2017.
The morning routine
7:00 – I wake up around 7 am and straight away check email and Skype for any messages that arrived through the night. As I fall asleep thinking about work-related stuff, I often get good ideas when I wake up in the middle of the night and write them down as soon as I get to the office.
8:00 - 9:30 - Before my baby boy was born some six months ago, I would be in the office usually by 8am (a 10-minute walk), but nowadays I help my wife during the early morning, playing with my son so that she can get some extra sleep and reach the office between 9 and 9:30.
9:30 - 10:30 - I again check email and Skype messages to see what needs to be acted upon and my Content Managers usually reach out around this time to consult me on various things.
I also open Monday.com, a work management tool we use to keep track of both the content writing and affiliate tasks. I am online on Skype, email and Monday.com basically throughout the day, on laptop and mobile. This is also when I have my breakfast and coffee and prepare for the work day ahead.
Making content plans, tracking industry updates, improving user satisfaction and more
My day is filled with so many different tasks, but I'll try to mention some of them.
10:30 - 16:00
Making content plans for our affiliate sites and executing them.
Keeping track of industry updates and updating content on our sites usually straight away.
Checking stats once per day for programs where we have active players.
Checking GSC stats once per day and tweaking our content constantly to better answer the user query.
Finding new banking methods to review for our main site CasinoBankingMethods.com, also new casinos that fit our strict criteria.
Identifying new opportunities in the industry either to improve existing sites or develop new ones.
Communicating with our Content Managers throughout the day to ensure everything runs smoothly.
Speaking to our clients and affiliate managers.
Delegating tasks, planning new projects and always performing minor tweaks to ensure all our clients get the best possible final product and fast turnaround, and that our teams' skills are utilised in the most efficient way possible.
Visiting GPWA forum few times a day to stay up to date with the latest industry trends and also discuss current matters with fellow affiliates.
I am always looking for ways to keep our employees motivated and happy to be working in our company, be it planning office parties, gifts for special days, preparing employee bonuses and rewarding them with salary increase whenever they deserve it.
Preparing invoices and paying our numerous freelancers (in the few days around the end of the month).
Finishing the day with some family time
16:00-22:00
I leave the office around 4pm and go home to spend time with my family, but I continue to check Skype and email, and act upon anything that is relatively urgent.
What are you doing different from the competition?
We pay a lot of attention to detail and try to compile reviews that contain facts that are virtually impossible to find in other reviews. Our templates are really in-depth and we try to answer most questions different types of players may have.
All our reviews are updated every 2-3 months to ensure we always have fresh content and that is something Google definitely likes. No updates are too small for us. If I see a minor update for a banking provider or casino operator on LinkedIn, I will immediately add the update on our site or instruct our Content Administrator to take care of it.
We are really meticulous and hate seeing even the errors most visitors would never spot. Be it a typo or an image that is just slightly outside of its planned position, we will act immediately upon noticing to ensure the user experience is absolutely perfect.
When it comes to our content writing business, we go out of our way to deliver the best possible final product and also always let our clients know if we spot any bugs on their own sites. We usually have three sets of eyes on every single piece of content we produce to ensure errors are kept to an absolute minimum and the articles we deliver are up there with the best of them.