14 Jan 2022
A Day in the Life of an Affiliate: Matthew White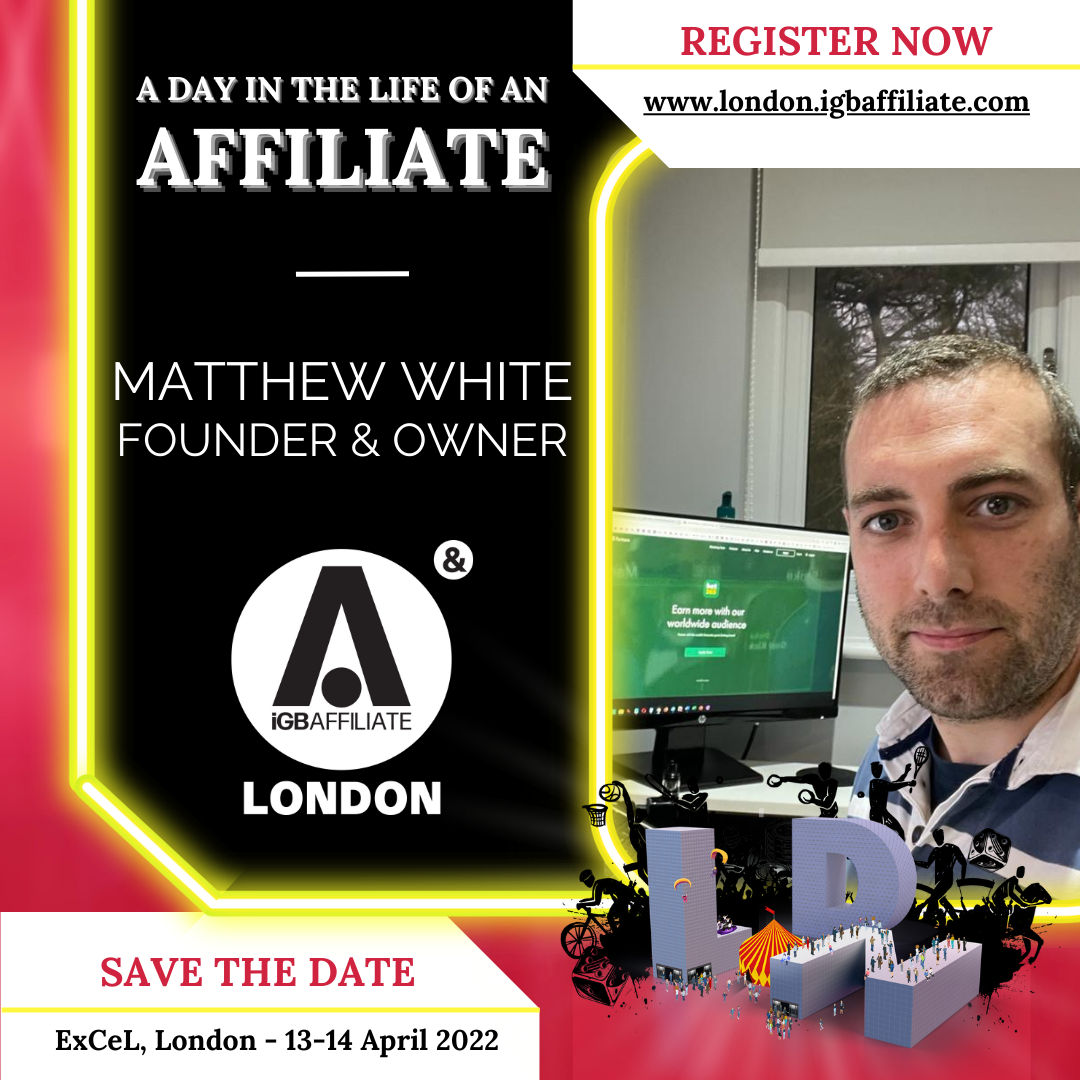 A Day in the Life of an Affiliate
We at iGB Affiliate London want to put affiliates at the centre of the story. A Day in the Life of an Affiliate shows you what igaming affiliates get up to during their working day. Whether you're looking to start your journey in igaming, learn some tips and tricks from your peers, or see the faces behind affiliate brands, this dedicated blog gives you the best insight into what it means to be part of the igaming affiliate community. These posts are unsponsored and are the own words of each affiliate.
Who is Matthew White?
In my first career I became a doctor of immunology, conducting research and teaching at Oxford and Imperial College London. I fell out of love with science due to politics and red tape and started afresh as an affiliate in 2015, setting up my own company with a friend I studied with.
Apart from science I have always had a love of sports and betting, I was also fed up with working on other people's ideas, so it was natural for me to move into affiliate marketing. I live in Liverpool, England, and I am a massive fan of my football team, Liverpool FC. I have a family with young children and my job now gives me a perfect balance between work and life.
Job Change
I changed from having a hectic job with a lot of commuting in the science and research industry to setting up a company as an affiliate in 2015. This has had a huge impact to my quality of life, no longer needing to spend hours traveling on packed trains in often bad weather. The first thing I do when I start my day and the kids are packaged off is take 20 minutes to chill with a coffee, look out of the window and be thankful I am not a commuter anymore.
The Daily Grind
My day usually starts by catching up on emails and correspondence, checking news and important sources and sending out briefs to writers and editors. Most of the day is spend managing content, updates and working on new projects, although I try to always build in half an hour to sit back and think. This is often when I have my most constructive ideas.
I measure my success not by how google ranks my sites in any one moment or by how much traffic I am getting in a day but rather by how much I have improved the quality of my sites. We are all subject to a lot of up and down swings as affiliates but to me the most important thing is creating rich, interesting, and unique sites and content that answer genuine user queries. If you ensure the quality is there, then you always find the success follows later. Good days are the days when I can spend time enriching my sites, bad days are the ones that take me away from that task.
iGaming Opportunities
The landscape is constant changing in iGaming and that is what makes it an interesting challenge and what allows new blood to keep coming through. It is one of the most competitive industries in the world but at the same time one of the most rewarding and that drives me on. Each year brings new opportunities and I expect the next couple of years to be interesting as the US market continues to grow and crypto gambling becomes more mainstream. In the longer term the prospect of virtual reality gaming and immersive gambling is exciting.
We also face new challenges, especially in Europe where countries are now regulating markets more actively, each with their own rules and stipulations. There are plenty of hoops you need to jump through these days to be a successful affiliate but if you do it willingly you can find long term success.
https://www.latestbettingoffers.co.uk/