27 Mar 2022
A Day in the Life of an Affiliate: Martin Calvert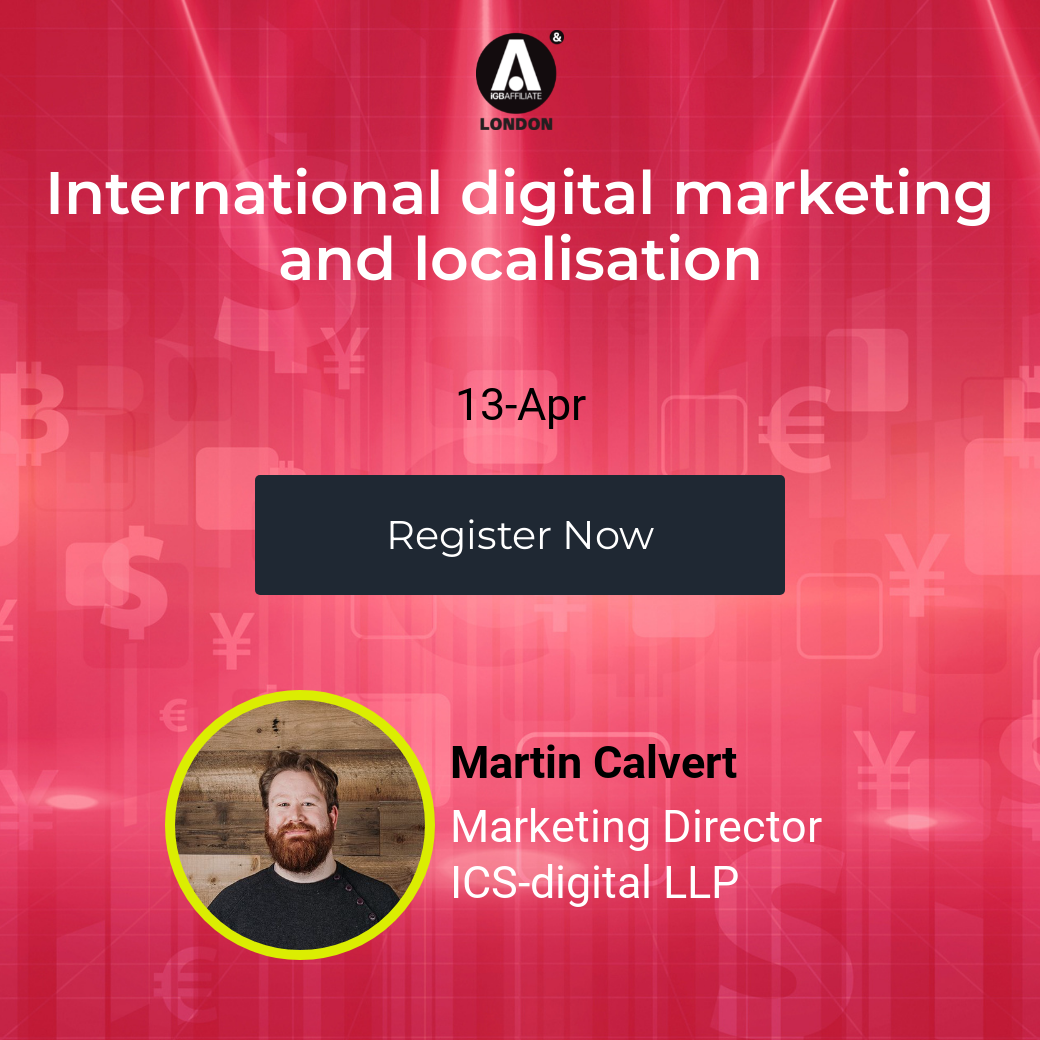 A Day in the Life of an Affiliate
We at iGB Affiliate London want to put affiliates at the centre of the story. A Day in the Life of an Affiliate shows you what igaming affiliates get up to during their working day. Whether you're looking to start your journey in igaming, learn some tips and tricks from your peers, or see the faces behind affiliate brands, this dedicated blog gives you the best insight into what it means to be part of the igaming affiliate community. These posts are unsponsored and are the own words of each affiliate.
Who is Martin Calvert?
Martin Calvert is Marketing Director at ICS-digital and its sister agency ICS-translate. Both agencies specialise in serving the iGaming industry, but also work at global scale across a range of other highly regulated, and highly competitive sectors.
What makes International digital marketing and localisation a must-attend session?
One of the biggest dilemmas for gaming affiliates (and operators) is what to do when it feels like growth is slowing, or it feels like a ceiling has been reached in terms of traffic and FTD volumes. While there's lots of potential strategies to break through that ceiling, one path to faster traffic is to expand your reach into new markets – and it's more straightforward than is often thought, even when working in multiple languages. This session will cover how to identify realistic international opportunities, get maximum value from your existing site/s, and localise your digital marketing effective (and responsibly) to grow in new markets.
What developments do you see as being particularly transformative or disruptive for the affiliate sector this year?
I think it'll be the case of there being familiar stories, just new chapters – so more regulatory shifts, more Google algorithm updates to contend with, and more changes among operators which may impact how affiliates go about driving traffic. The most transformative developments may actually come down to the decisions that affiliates make from themselves, with opportunities across the US and other high-growth markets available to those affiliates who are able to put a solid plan of action together. Now that Covid is (hopefully) receding as a concern, business confidence, networking opportunities and scope for new deals seem very significant in 2022 – but the opportunities need to be grasped. There's lots of reasons to be optimistic, but those familiar disruptions still need to be managed. That involves building flexibility into affiliate operations, investing in solid relationships with operators, and having a good degree of preparedness for inevitable quality-oriented Google updates.
Apart from your speaking appearance, what is it about the return of iGB Affiliate London that you are most looking forward to?
I'm looking forward to seeing familiar faces and making new connections. The London show is one of the biggest of the year for a reason – the quality of conversations, and scope for affiliates, operators, and marketing specialists like ourselves at ICS-digital and ICS-translate to come together and turn conversations into plans. As always, there will be a wide range of speakers, the chance to take a look at new product offerings....and the likelihood of massively increasing my step count for the week, with regular pitstops at the Spotlight Sports Group cafe.