24 Jan 2022
A Day in the Life of an Affiliate: Dušan Mihajlović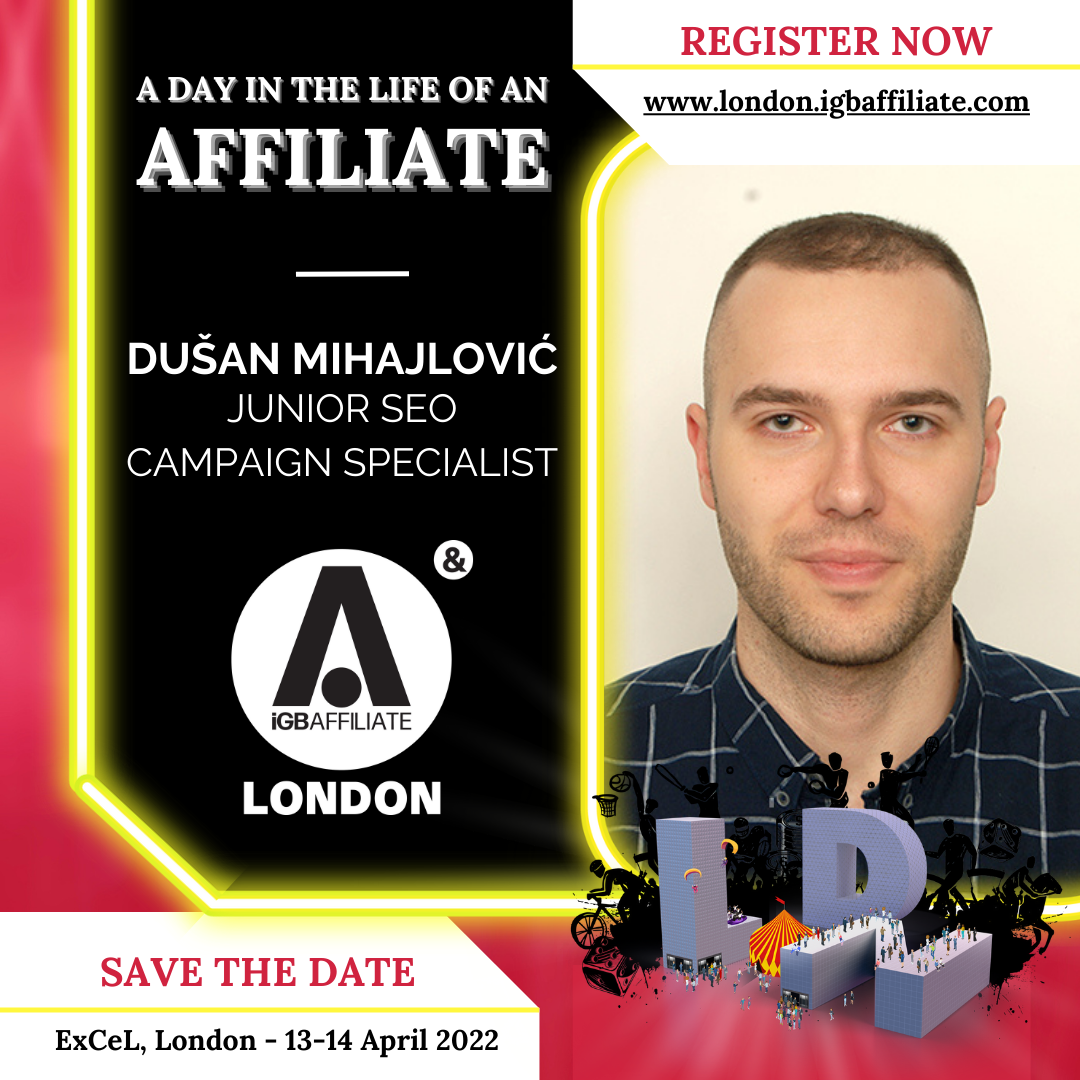 A Day in the Life of an Affiliate
We at iGB Affiliate London want to put affiliates at the centre of the story. A Day in the Life of an Affiliate shows you what igaming affiliates get up to during their working day. Whether you're looking to start your journey in igaming, learn some tips and tricks from your peers, or see the faces behind affiliate brands, this dedicated blog gives you the best insight into what it means to be part of the igaming affiliate community. These posts are unsponsored and are the own words of each affiliate.
Who is Dušan Mihajlović?
Hi, I'm Dušan Mihajlović. My SEO journey started on-page with content writing. It was both creative writing for blogs and App Store Optimization while I worked for my previous company. After years of doing that, I switched to off-page in 2020, and now work on SEO campaigns for Better Collective, which is an iGaming company. I studied English Language and Literature, but I also speak German, Spanish and Serbian which is my mother tongue, but I mostly prefer communicating through memes, when the situation allows.
A Morning Walk
Well my day starts by walking to work. Luckily we are able to work from the office which makes me more productive, and being around my team members (shoutout Digital Performance) is a big plus. We are based in Nis Serbia, which is now the largest office in Better Collective, but we collaborate with almost all of the company's offices around the globe. My work day starts by having some tea, while I read through some daily SEO updates and relevant blogs so I can keep up with the industry trends. There is always a meeting where we align on the things we do, either within the team or on a larger scale. Also, additional meetings tend to pop up where we discuss some solutions, strategies or build relationships with clients from all over the world.
The Work
The team I work in is focused on off-page SEO and serves as a provider of digital visibility to our products. That means that other people's success, or KPIs, often depend on how well we perform. You'd think there's pressure in that, but we are a well-oiled machine, and have learnt to accommodate the needs of SEO and stakeholders. Once we've shown that we have their best interest at heart, which are also the company's interests, they are now confident that Digital Performance can deliver when it comes to off-page SEO analysis and benchmarking tasks. So besides our own KPIs, seeing that our work makes the stakeholders happy is a clear indicator that we are on the right track.
The Road Ahead
Overcommunicating is really necessary, both within the company as well as with the clients that we work with. Building a better relationship with people has never backfired for me, and giving someone a time of day has only improved the way we work things here in BC. There are still some milestones to reach, new and existing markets to conquer which is an ongoing strategy. Personally, I'd like to establish more sponsorship opportunities for one of our brand websites bonuscodebets.co.uk. It will be a battle since this is a competitive business and you need to find a way to stand out, but I think it's time for an affiliate such as Better Collective to rise to the top.