14 Mar 2022
A Day in the Life of an Affiliate: Carlo Marafioti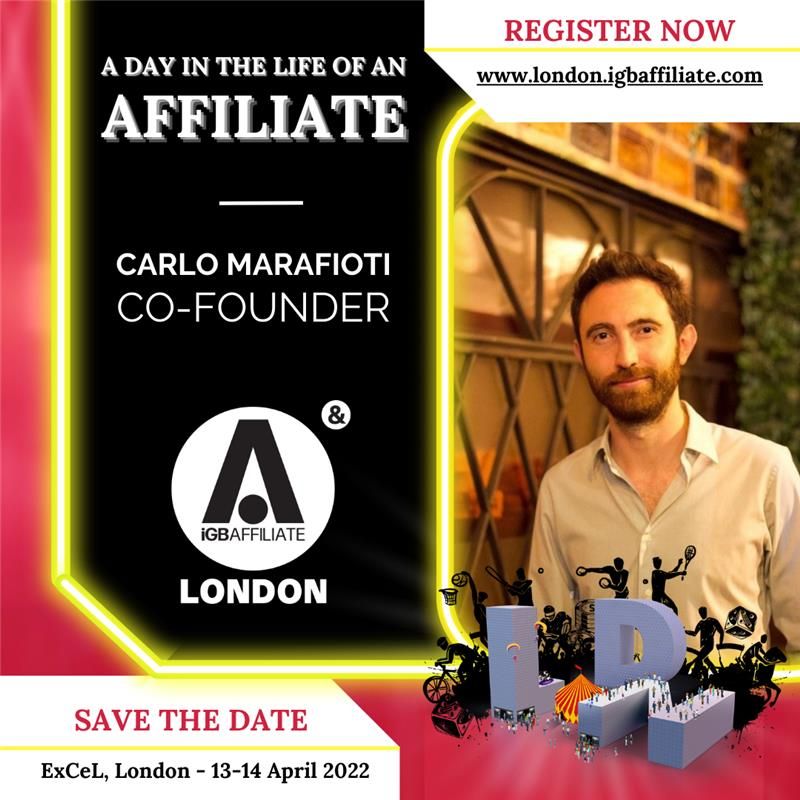 A Day in the Life of an Affiliate
We at iGB Affiliate London want to put affiliates at the centre of the story. A Day in the Life of an Affiliate shows you what igaming affiliates get up to during their working day. Whether you're looking to start your journey in igaming, learn some tips and tricks from your peers, or see the faces behind affiliate brands, this dedicated blog gives you the best insight into what it means to be part of the igaming affiliate community. These posts are unsponsored and are the own words of each affiliate.
Who are the team behind Slots-777?
Carlo and Michael are running Slots-777 and Machine slot online. We started 12 years ago, when we met in London. We were both in our early twenties and in the gambling industry already, indeed everything started visiting the London Affiliate Conference in 2010. It was still at the Old Billingsgate Market venue and I remember it was very small compared to the latest one that took place in Excel in 2020. Since then, we created and nurtured 4 websites, among the most played in Italy, US and UK and built a team of skilled professionals and great people.
How do you start your day?
There are several routines we are running to ensure our operations are constantly top-notch. Business analytics is definitely a priority, monitoring KPIs for the previous day. We care not only in terms of performance generated by the websites, but more importantly focusing on engagement rate of our sites. Luckily this can be done also on mobile devices. Nowadays thanks to collaboration and task management tools like Trello and others, it's easier to set up tasks and follow them up efficiently, even in remote working settings. It was not like that when we started this business.
What is a game-changer in 2022 in the affiliate business?
We dedicate most of our time to improve the UX of our platforms in order to put user first, engagement is key to success. We see this also in the social media industry, as Facebook and Instagram have in place algorithms based on user interaction. Companies like Netflix, Hulu and Prime Video make a great deal of defining their strategy according to user engagement. Youtube relies heavily on time spent watching a video as a main positive driver, so our main focus is running platforms with high rate of engagement and returning visitors. This key metric should really be at the core of any business.
Perfect Day By Lou Red
After 2 long years of lockdown and fear of Covid, back to normality is the new extraordinary. Freedom is the main positive attribute of the affiliate job, meaning you are free to work wherever you want, whenever you want; it's up to you to decide if you want to work from a beach, a Ski resort, or simply at home. Today technologies and communities for internet nomads are growing worldwide, so the perfect day is to be able to enjoy freedom this job can offer, as a new normal.
How do you measure success as an affiliate?
In my personal opinion the success of an affiliate is being able to create a balance between working hours and time off, in other words it's important to have a good quality of life while doing what you do. Oh, there's one more thing...the ability to observe things and events; intuitions are especially important for an affiliate, these can make a life-changing difference to his or her life.
What opportunities do you see coming up for affiliates in igaming across 2022/23?
The affiliate business in 2022/2023 will see competition increasing once again. Especially in gaming, we see a lot of acquisitions. Big fishes are eating the small ones, therefore small ones in order to rank on Google or obtain traffic will need to find new ways and new paths. Intuition and creativity will be key drivers. The opening of the US market will definitely create some new opportunities, along with the return to the live conference event in April this year. In a few words, exciting times ahead, and definitely some new business up for grabs